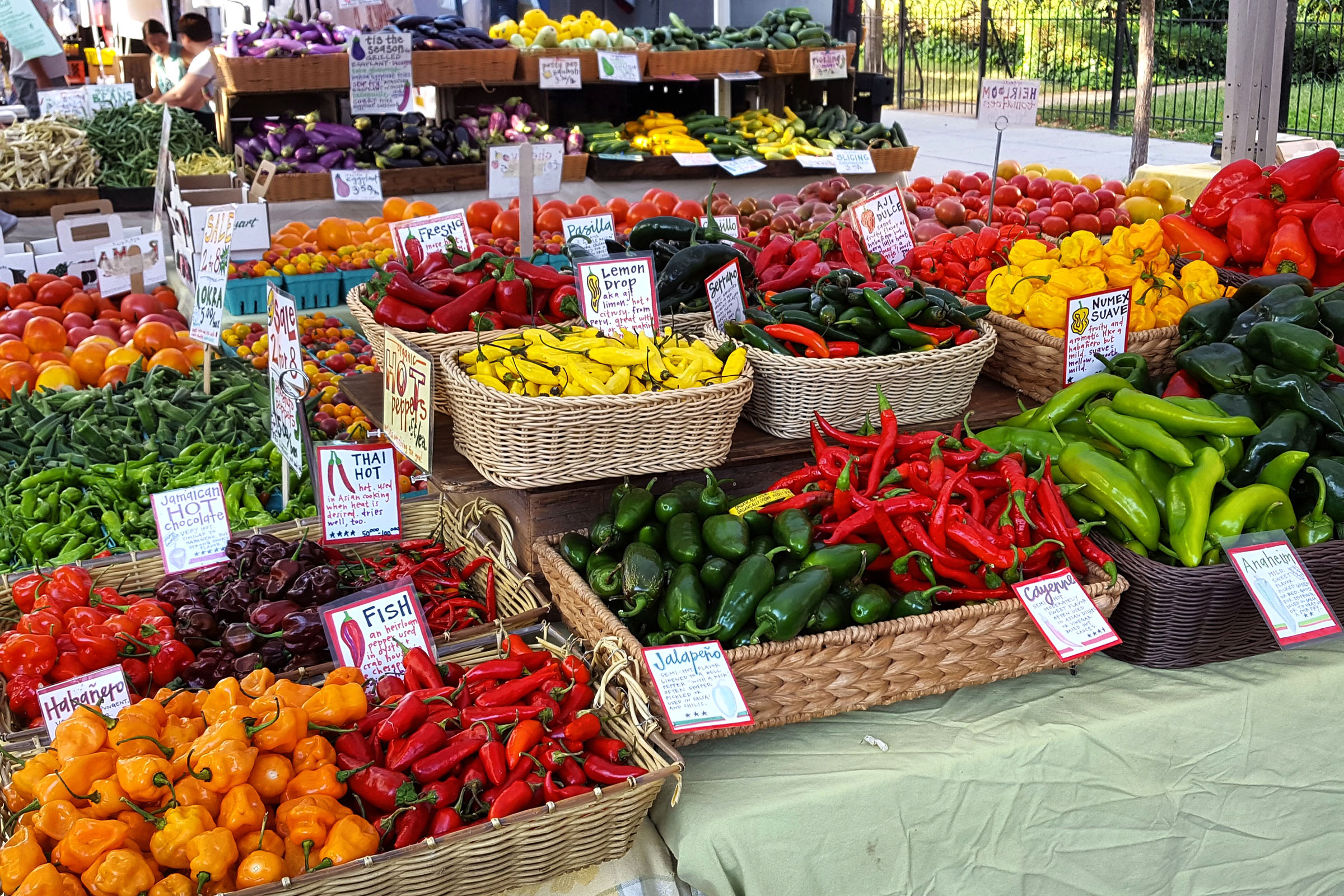 We sell everything locally within a 70 mile radius of the farm, thereby ensuring the freshness of our products; reducing environmental costs associated with transportation; generating stronger relationships and promoting accountability with our consumers; and supporting the local food economy.
We prefer to sell direct to consumers, thereby guaranteeing that our produce is being offered at the peak of its freshness; building closer relationships with the people who eat what we grow; and benefiting from feedback about what we can do better.
We select our wholesale customers carefully, thereby protecting the integrity of our product and forging long-term, mutually beneficial partnerships.
With these principles in mind, you can buy our food through our on-farm community supported agriculture program, at two local farmers' markets and at a small number of fine restaurants and stores.
Farmers' Markets
Dupont Circle
The Farm At Sunnyside sells year-round at the Dupont Circle Farmers' Market located on 20th Street between Massachusetts Avenue and Q Street, NW. The market is open Sundays 8:30 a.m. – 1:30 p.m. April-December and 10 a.m. – 1 p.m. January-March.
Reston
The Farm At Sunnyside sells from May-November at the Reston Farmers' Market located in Lake Anne village. The market is open Saturdays from 8:00 a.m. – 12:00 p.m.  To get there from I-495, take the Dulles Toll Road (Rte. 267); exit at #12, Reston Parkway and head north from Reston Town Center; turn right at Baron Cameron; turn right at first light onto Village Road, then left onto North Shore Drive.  Make a quick right into the parking lot of Lake Anne Center.
Village Market at The Inn at Little Washington
The Farm at Sunnyside sells every Sunday from May-October at 
The Village Market
at the Inn at Little Washington. The market is open Sundays from 10 a.m. to 2 p.m. The market is located in between Main St and Gay St in Washington, VA.
Restaurants
You can enjoy produce from The Farm At Sunnyside at several fine local restaurants, including The Dabney, Field & Main,The Inn at Little Washington, Headmaster's Pub and Rappahannock Pizza Kitchen. When you go, please tell them that you applaud their efforts to support local organic farms!
CSA Shares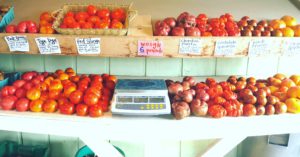 The Farm offers Community Supported Agriculture (CSA) shares for our local community. In exchange for your support, we pick a share of what's in season just for you. CSA subscribers receive the widest variety of produce that we grow throughout the season.
On-farm: The Farm At Sunnyside offers shares for on-farm pick up from June-November. Subscribers visit the farm Tuesday evenings to pack their share of fresh vegetables. Additionally, eggs, honey and fruit are available to subscribers for purchase on an a la carte basis.
Marshall: The Farm at Sunnyside offers shares for pick-up at The Whole Ox in Marshall, VA from June-November. Subscribers pick up prepacked shares on Wednesday afternoons at the store.
For information on pricing and availability, please contact Stacey Carlberg at stacey@thefarmatsunnyside.com or 540-675-9946.
Early Bird Registration: Register in January and receive one free week of shares plus an insulated shopping bag from The Farm at Sunnyside. Early registration helps us get the season started. Thank you!